The last two years I spend on and off in London. This weekend I finally got the chance to show my mom around in the city that now feels like a second home for me. A very last minute citytrip, because we only decided to go two days before departure.
I wanted to stay in Shoreditch, because this is one of my favorite neighborhoods of London. My agency, Wilhelmina Models, is also located in this area! We chose to stay in this very cute hotel named Z hotel Shoreditch. The interior design is just amazing and their concept of free wine and cheese for guests between 5 – 8 pm is genius! Although the rooms are really small, I would very much recommend this hotel (it has several locations around London).
We strolled around Shoreditch to see some of the beautiful street art creations. I don't know why, but I have this thing with street art, I am always amazed by it. And guess what: Shoreditch area is known for its street art! Almost every street has at least one wall covered with several art works. (walk via Brick lane and Fashion street). There is also a street art walking tour, but we chose to walk it by ourselves. There is much more to see than only street art, we did some vintage shopping and went to the Old Spitalfields food and fashion market. All of a sudden we ended up in a pop-up art gallery and a fashion show event. We had to hide in a typical English pub (not that bad tho) for the pouring rain. In the evening we ate dinner along the Thames next to the London Bridge in a restaurant called Côte.
Day two of our little citytrip, we spend the day in central London. although it was pretty busy (like always), we managed to do a little shopping at Piccadilly/ Regent street and see the AMAZING toilets of world famous restaurant Sketch London. It feels like a dream when you enter Sketch, nothing to compare with any restaurant you've ever been. Normally you can't go in without a reservation, but I told them the excuse that I was considering celebrating my birthday at Sketch next week. Now I was able to show my mom the crazy egg-shaped toilets, which are meant to be little spaceshuttles.  Each egg-bathroom-pod is taller than a human and contains one single toilet.
Soho is my second favorite area here, so I showed mom the cute Carnaby street with it's colored houses and lights. We bought tickets to see the Matilda musical in the Cambridge Theater. Matilda has been my all time favorite movie since I was a child, so I was super exited to see the musical version. But first we had to eat something close to the theater. We found the most beautiful little square/ garden named Neils Garden only five minutes walking from the theater. We had some moroccan bites at this restaurant located in Neils Garden named Souk. It really felt like we were in Marrakech with the moroccan vibes, smell, colors and music. The whole Theater was in style of Matilda and the musical was amazing, they did a really good job turning the movie into a play. We were invited by someone I know, to have a drink at STK. The fancy steak restaurant from hotel ME, which turns more into a club later at night. It happened to be nearby the theater, so we went for a cocktail (or two ..).
Our third and last day in London started with breakfast with a view at M by Montcalm hotel, just around the corner of where we were staying. This building amazed us from the very beginning  we saw it, it loos like it is made in 3D from the outside. I planned a little shoot with a photographer that wanted to shoot me for a very long time; Gigi Fox. We walked around Shoreditch to spot cool places as a  background for the pictures. I am exited to see how it turned out! Then it was already time to leave, because we wanted to be on time for our flight. We spend our three (or actually two and a half) days well, didn't waste any second and enjoyed every bit.
click here if you want to see my after movie of our trip!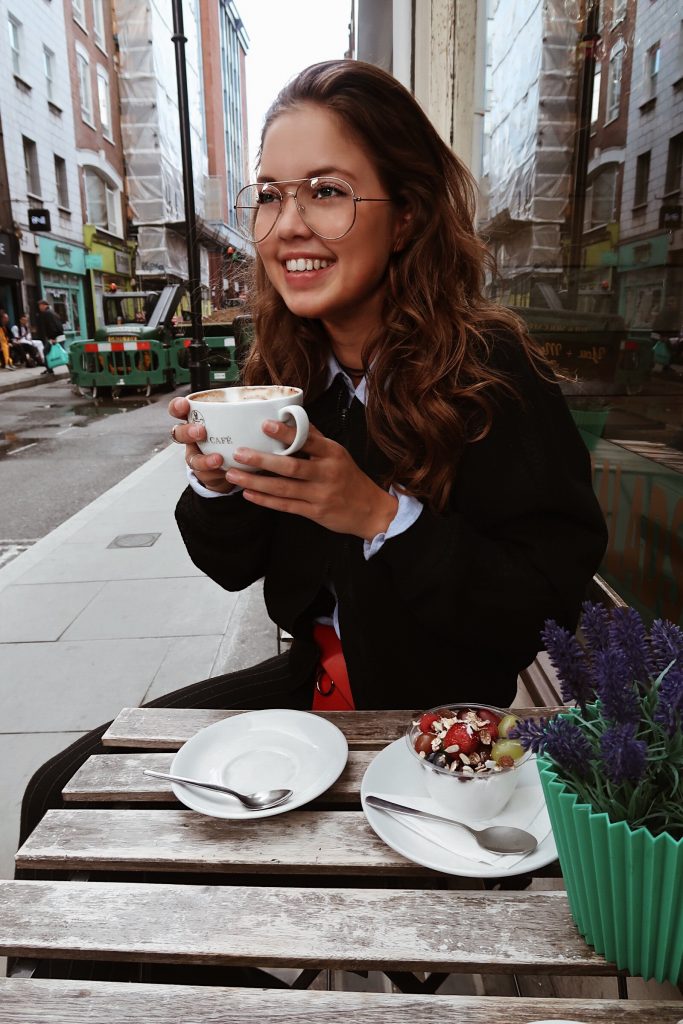 Love,
Demi
Ps. Did you liked this post? Make sure to check out my other travelblogs about Milan , Bali  and New York!