Two years ago I fell in love with Bali, home to beautiful temples, rice fields, beaches, friendly people and breathtaking nature! This is why me and my boyfriend decided to go traveling around this beautiful island for 3 weeks.
We started in Canggu, this coastal village on the westside has everything you need. It's the perfect place to surf, for both beginners and more advanced. I tried to learn how to surf at Echo beach, but I know now that it's way more difficult than it looks… For lazy beachdays you should definitely go to Finns beachclub, which has a really chill vibe with a DJ, pool and good food. Dinner is the best at Betelnut cafe, a cute mexican restaurant on a roof. Be aware that you probably have to wait a while because they just have a few tables. Oldman's bar is the place to be to have a few drinks after dinner. I definitely recommend staying in Canggu!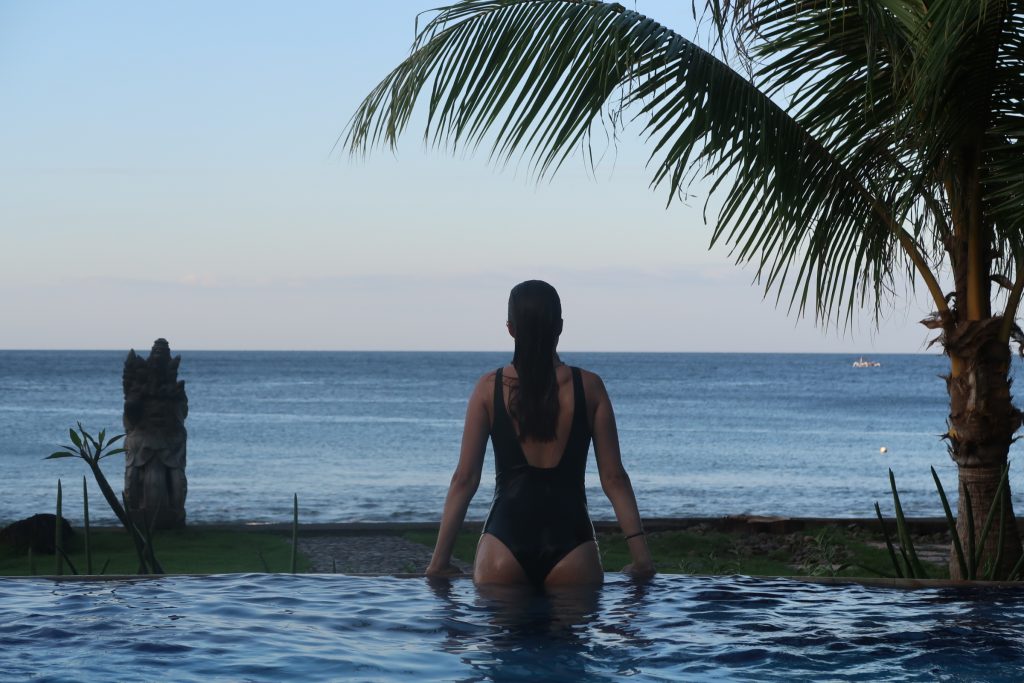 After 4 days in Canggu we went to Amed, all the way on the east side of Bali. We stayed here for one night, only because it's an easy layover for the boat trip to the Gili Islands. We choose to go to Gili Trawangan: words can't describe the beauty of this island. We arrived at paradise! I had never seen water this blue and sand this white. We walked around the whole island, which took us 2 hours. It has a really romantic vibe with all its swings in the ocean. Where the Gili's are also known for is turtle diving, so of course we couldn't leave Gili T without seeing one. What an incredible experience!
Unexpectedly we decided to go to Lombok after Gili T, to the very south, Kuta Lombok. We went on a private trip with a guide trough the jungle to see the Benang Stokel and Benang Kelambu waterfalls.  An amazing experience to jump from cliffs and swim in waterfalls while monkeys are watching you. The best place to have dinner while visiting Kuta Lombok is definitely El Bazar, a pretty place with amazing food and super friendly staff. They serve Moroccan food made with love, which you can definitely taste! And not only their dinner but also their breakfast and lunch are delicious. On the opposite side of the street is KRNK located, it has the same owner as El Bazar. A industrial styled interior, good atmosphere and a wide variety of good quality food. Must visit while you're in town!
It was time to go back to Bali again, this time we went to Seminyak, a very popular place just above Canggu. I had been here before, but I fell in love with the La Plancha beach vibes and the streets full of Balinese clothing shops. We were very lucky to be able to stay in a beautiful villa (thanks David!!!), located in the very central of Seminyak. I have an agency here, Balistarz, so I thought why not do a few shoot while I'm here?! Bali is too pretty not to shoot, so I did one job and one testshoot and I can't wait for the results!
Unfortunately our trip ended and we had to go back to reality. Bali, thanks for having us and we'll be back!
Let me know if you are interested in more tips or have any questions.
Love,
Demi
P.s. Did you liked this post? Make sure to also check out my photo diary from New York.