Los Angeles, finally I had the pleasure of meeting you! 2 days before flying my tickets were booked: time for a last-minute adventure before I would start my new job. I didn't know the city, I didn't know anyone, it was an amazing experience full of surprises.
Honestly, I didn't even take that many pictures: I was too busy enjoying my time there, or in some cases, there was literally no one around to make pictures of me. As a blogger that was quite uncanny at first, but I came to appreciate it. Living life through your phone isn't the same as actually experiencing it guys!
My go-to beach essentials of the week: 
Hat: WatMooi (vegan webshop)
Clutch: WatMooi (vegan webshop)
Sunnies: Quay (via Zalando)
The beach was as much fun as I expected, but surprisingly enough, less chic! It was really much more of a 'hipster' area with cheap food stands, graffiti and touristic shops. Personally I enjoyed the vibes, but you should be careful! Apparently Venice Beach is not a safe neighborhood #traveltips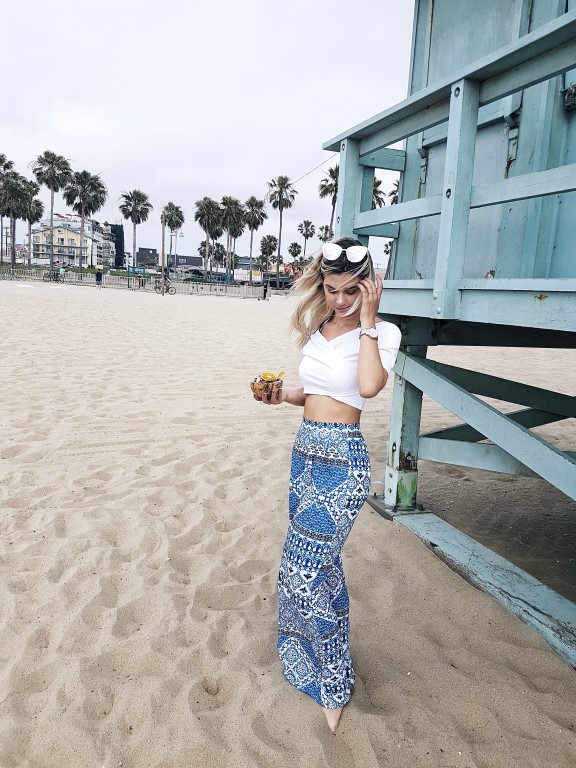 My go-to beach outfits this week:
White top: Ivy Revel
Blue trousers: Ivy Revel
Bikini: Twintip (via Zalando)
P.s. For those wonder: I am in fact wearing a size M bikini. Yes, I have a small waistline, but I do actually have shapes! Don't believe me? Check my blog about lingerie photography.

In case you feel like sweating your ass off and burn some calories: try the hike in the Hollywood hills! I definitely NEEDED a picture with the Hollywood sign, which was surprisingly harder than I thought. We hiked around for 1.5 hours before we found a good spot for a picture (which we actually found while descending the hill on the other side). Nevertheless, the views were beautiful and it definitely felt very rewarding. Recommended!
My Hiking Outfit:
Sunnies: Le Specs (via Zalando)
Blouse: WatMooi (vegan webshop)
Shorts: Ivy Revel
All in all, my time in Los Angeles was a rollercoaster of surprises, fun, new experiences and interesting people. I already told myself I wanna go back as soon as possible!
Have you ever been in Los Angeles? Give me recommendations!
Lots of Love,
Lynn
P.s. I you liked this blog, also make sure to check out my stories on Croatia and Barcelona