The fashion season is starting again! Last time, I had an amazing week full with fun experiences, and I cannot wait for the upcoming shows. Preparing yourself for a fashion week is absolutely necessary, a thing which I learned from going to fashion weeks for quite some seasons already. I decided to team up with 7 amazing bloggers to write down The Ultimate Prep Guidelines for Fashion Week… Get Ready!  
Here are the babes joining us at Who is that Blonde today:
Larissa Bruin – the beauty behind From Hats to Heels
Lily Tjon – this cutie runs Hasthag by Lily
Amanda van Effrink – a true fashionista that works with FashionChick
Iris Dijkers – the trend setter behind A Dash of Fash
Marlot Willems – the fun babe who founded Joliejot
Marta Sierra – the lovely lady who runs MartaMadamoiselle
Taria-Ann Verburgt – a style maven who started Survivor on Stilettos
Bunch of style experts? Check! Together we created 20 style guidelines which will leave you completely prepared for the fashion season. What to wear to be noticed by the streetstyle photographers, how to prepare your outfits? Style tips and practical tips are all set up. Keep reading!
1. Choose outfits that don't need killer heels, running around Paris will make you go crazy! "Take flat shoes with you in your bag!" Larissa and Amanda suggest. If it's up to Lily: "Über all the way".
2. One of my tips would be to narrow down your essentials to your bag-size. But if it's really not possible (clutches can be super cute for your outfit obviously), take a cotton bag with you. It will look like you just scored it at a brand presentation and you just got from there. Iris and Marlot couldn't agree more with this one!
3. Is it your goal to get spotted by streetstyle photographers? Wear something that's in trend that season. All of the girls agree that it's the best way to get featured in magazines because trends are the topic that magazines want to tell their audience about. 
4. Me, Amanda and Marlot swear by layering: if you have a lot of shows/ events in one day, you don't want to wear the same in all the pictures. Choose your outfit wisely by selecting several layers which you can add or take off, like that you can completely turn your look around!
5. Your outfits don't have to be from expensive designers, as long as you look stylish! Fashion fades, style is eternal. And btw… we always still have vintage don't we? <3 Iris adds: if you cannot afford designer items, you can also borrow or rent them!
6. Lily has a great tip for catching the attention: work your statement pieces! Even if you are rocking the minimal look, with bright colors or funny details you can perfectly finish off your outfit.
7. "If you visit the shows, make sure to wear something from the designer that's showing" Larissa states. "In case you don't have anything from the designer, at least try to wear something in his/her style" Marta adds.
8. All the girls state how important it is to collaborate with brands for cool looks. It's a win-win! You get a cool outift to wear, and they get promotion – maybe they will even offer to pay you for it.
9. Amanda is the prepared stylist with very practical tips: "make sure to go through your outfits at home so you know exactly what you will be wearing and how you will combine it with accessories. Make pictures of the selected looks so you don't carry around unnecessary clothes." During fashion weeks you always travel a lot, so it's very important to don't pack more than necessary.

10. However, Amanda and Marta also explain that it's important to always pack 1 extra look in case you don't like one of your other looks anymore, or perhaps it got dirty and you need an emergency outfit. Always. Be. Prepared.
11. Larissa got a good pracitcal tip for us: "Never forget to take your business cards with you! You will meet people that will want to contact you". Networking is everything in the fashion world, especially during the fashion weeks.
12. Me and Marta know how to catch the attention of the streetstyle photographers.: before really 'walking into the scene' we carefully check out where the photographers are located, to make sure we pass by them. Once one of the photographers starts to make pictures, the rest will follow soon enough.
13. Amanda does her research on the creative directors of the brands, the hotspots of the city and the interesting fashion people, to be prepared in case she meets them or has to choose a meeting place.
14. "Fashion Week can be quite hectic so it's important that you know how to handle stressful situations and stay calm", Taria-Ann explains. I mentally prepare myself for possible situations so I know how to deal with them later on. Preparation is everything.
15. For me it's very important to not just have gorgeous looks, it's also important that you can share it with the world! Do your research on beautiful shoot locations and make sure you take your time to shoot your looks.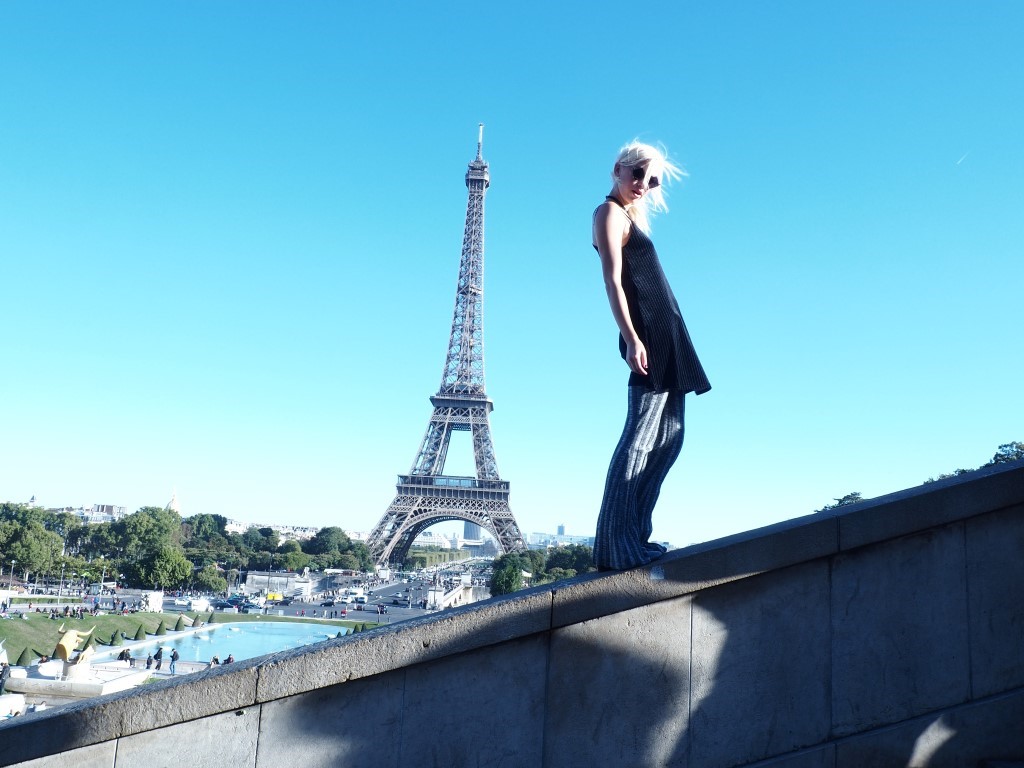 16.  "A total look is more than your outfit, also pay attention to your total look". Lily always pays attention to every detail of her look, for example: hair, make-up, nails and accessories.
17. "Bright colors and textures always pop out more than neutral colors – obviously" Taria-Ann states. If you want to catch the attention, make sure that at least one part of your outfit pops out. Also, get out of your comfort zone! Go for more bold choices and experiment. People like it.
18. In autumn: make sure you score a beautiful coat which can work as your fashion statement. Like that you won't have to freeze in order to show off your outfit. 
19. Be nice to the photographers, they are doing their job! If they like you, it will also be more likely that they remember you and automatically start photographing you the next time they spot you. I actually made a couple of great friends because I took the time to stop and make a small talk with them every now and then.
20. Taria-Ann gets practical: arrange your accreditation as far ahead as possible, so you have enough time to prepare your outfits and your schedule. In case you are going to multiple cities you have to book your flight tickets and hotel rooms, so you need time to prep. Also: make sure to get some extra sleep and take care of your skin, you don't want to look bad in the pictures now do you?
Do some of these tips surprise you? Do you have some tips of your own that you want to share? Who else is going to a fashion week this season? Leave a comment!
Lots of Love,
Lynn
P.s. If you liked this post, make sure to also check out my vlogs of Paris and Madrid Fashion Week!