Perhaps some of you are already familiar with the fashion illustrator Mimi Nizan: with clients as Lancôme, Moët & Chandon, L'Officiel, Topshop and Estée Lauder she is definitely considered successful! Last week I was delighted to go for a Chai Tea Latte with her in Amsterdam and ask her everything about her work as an illustrator. What is she up to and how did she become such a success? Keep reading to find out!
Hello Mimi! I am so excited you were able to make some time for me in order to tell me more about yourself and your work! How have you been lately?
Thank you Lynn, it is great to meet you as well! I have been working on some new ideas lately, It's a lot of work but it's going to be awesome!
1. What inspires you to make your illustrations?
Mainly catwalk shows… outfits… streetstyle, but also very simple things from daily life such as interesting color combinations. Two people who inspire me are Daphne Groeneveld (her face is so fascinating!) and Sofia Richie.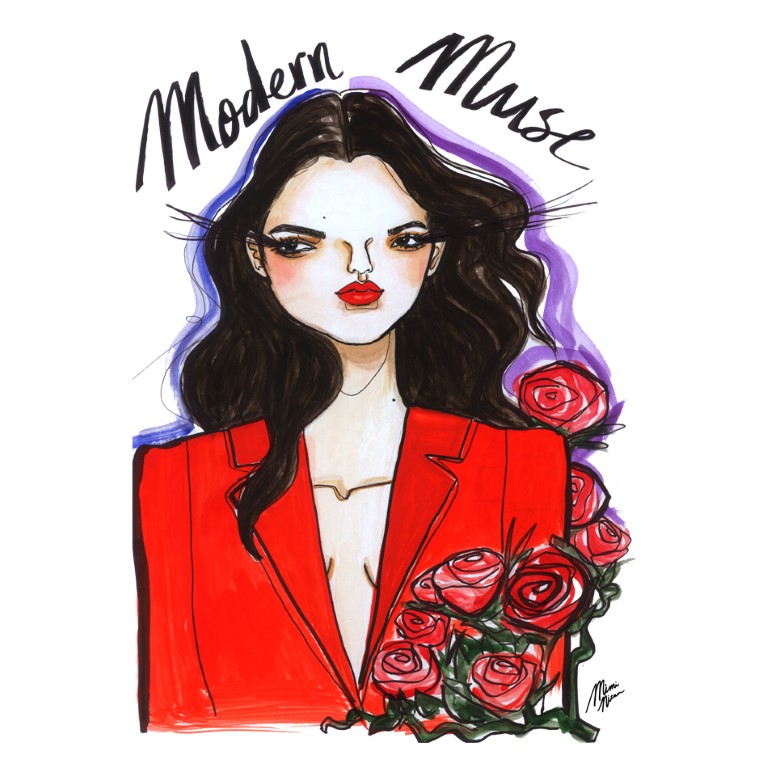 3. How long have you been drawing and how did you grow into your signature style?
I've been drawing as long as I can remember, and I was always drawing women. But I started developing my personal style three years ago: once I decided to follow my passion and become a professional illustrator. At first my style was somewhat darker and more sinister, and currently I am experimenting more with colors and lines, so I have the feeling I am still developing myself. My signature style fits with me as a person so it will always keep changing slightly.
3. How do you think Art is connected to Fashion?
Both of them are ways to express yourself or help you to define yourself. Once people covered their basic needs it's in human nature to look for improvement or satisfaction – We all like to witness beauty. I believe that art and fashion are a great way to do so, especially when they complement each other.
4. What was your most exciting project till now?
Last Christmas I had a 10 sheet spread in L'Officiel: a magazine which has been my favorite for a very long time already. That was a huge honor for me! Another great project was in collaboration with Topshop: one day I was creating a huge window illustration and the other day I was customizing denim totebags for consumers in the shop, it was such a big event and so much fun!
5. Do you have a favorite illustration?
It's hard to choose, I love seeing my work hanging in the interiors of other people – I'm so honored that they want a little piece of my fantasy world in their lives! However, this might sound a little strange, but personally I keep the walls in my home pretty empty. If I would look at my own art the entire day I wouldn't be able to clear my head, I would be constantly looking at it from a creator's perspective. I'm a perfectionist and I always see things that I could have done better. Anyway, if I would have to choose I would go for this romantic illustration down below… I like the vibes it radiates: it's softer than my other work.
6. How do you feel when you are illustrating?
In my own world, nothing else exists around me anymore and I can create anything I want. It's an amazing feeling which makes me so passionate about illustrating. However, when I do live illustrations I have to get out of my own dream world because I have to interact with the people in front of me. At first this was quite hard for me but now it became very natural. In fact, I've come to really enjoy it, meeting new people and all of their personalities.
7. Do you think that your work as a fashion illustrator influences your personal fashion style?
The other way around! I draw the trends/ clothes which I like.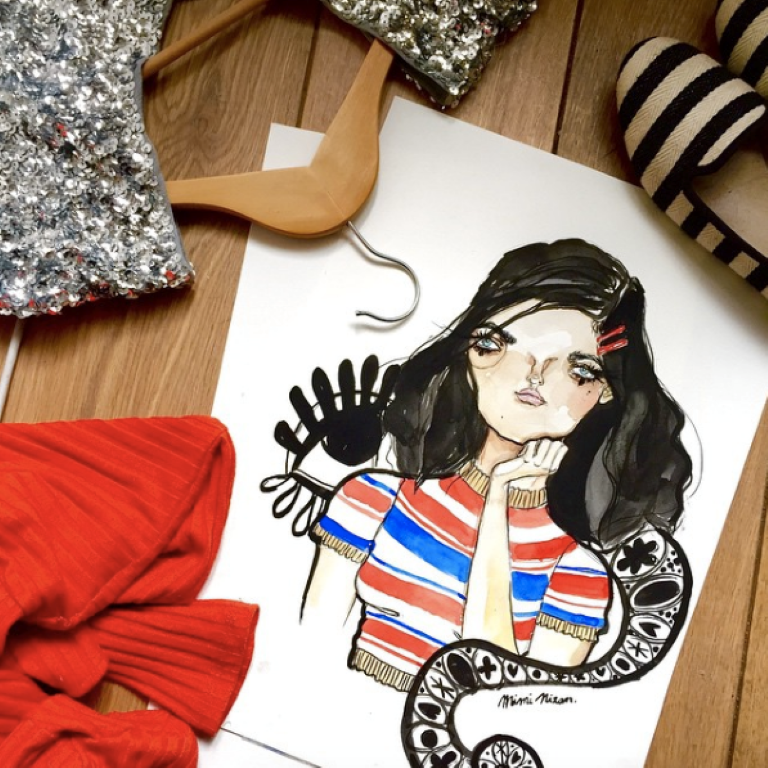 8. Do you have any personal fashion styling ideas that all of us should know about?
The most important thing is to feel comfortable in what you are wearing: it's terrible to see girls struggle on heels they can't handle or skirts that are too short! Don't just wear all the trends that are going on right now: it's temporary and maybe not suitable for you. Instead: take out the elements of trends which fit with you and use them to strengthen your personal style. You will be timeless and unique!
9. Give us a tip for all the young and upcoming artists out there: how do you make art a good business?
First of all, you will need to create a unique style: there are so many artists out there so why should anyone choose you? Your signature and your brand is the most important. Second of all, it's very important that you are visible online: work on your website and your social media, that's where people will start finding your work and from there it will keep growing. Last but not least: don't underestimate the power of networking. The more people you know, the more people will know about your art and talk about it. Personal advertising is nothing to be ashamed of.
Thank you for all the great answers! I love your work and I will definitely keep following you for more, are there any exciting projects coming up for you that we should stay tuned for?
Thank you so much! Actually now that you mention it: I just launched my webshop! I will be selling a selection of my illustrations – originals as well as prints – postcards and cute accessories at: miminizanstudio.com, feel free to check it out!