Hey there lovelies! 
This weekend I flew to The Netherlands to attend the Amsterdam Fashion Week for a couple of days, and it was so much fun! What did I wear? With who did I hang out? Do I have some favorite designers? I will spill it all! 
Day 1: Saturday 
After sleeping for only two hours because I was catching my flight, I immediately got into a cute outfit and ran off to pick up my Press Bracelet! Btw, What do you think of my cute 'Aloha' Bracelet designed by Venessa Arizaga?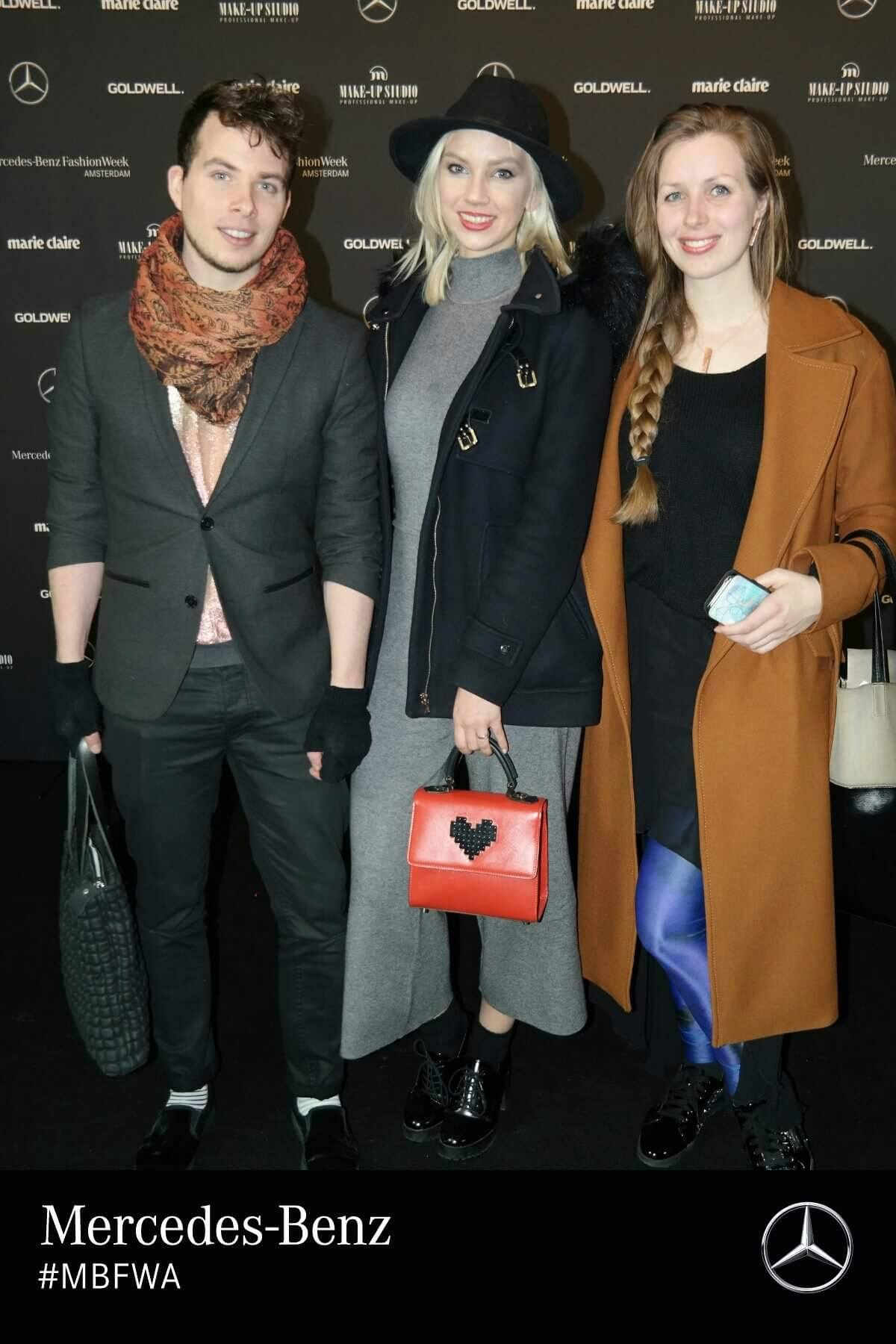 My outfit is a minimalistic jumpsuit from Zara Knit combined with this beautiful statement bag from Les Petites Jouers, wich I scored at the cutest concept store in Barcelona: Passage BCN! I wasn't the only one who fell in love with this bag, also Fashionblogger Susanne Bender spotted it and selected it as one of her favorites on her blog Bag at You! Finally, I did some detailed color matching with a bright red lipstick… that can literally never go wrong!
Another part that I love about going to Amsterdam Fashion Week is the fact that I meet so much amazing people that I haven't seen in a long time since I moved to Barcelona! Obviously I had to make a picture with shoe designer Chris van den Elzen en Fashion Designer Judith van Vliet! Great seeing you guys :)
Catwalk Highlights: 
Today there were so many awesome shows to be seen! My personal favorites were Anbasja Blanken for her feminine style and interesting use of materials, Mick Keus because he knows how to rock his basics, and Esther Haamke because her show had a great energy and I absolutely love her inspiration: "Lucky". However, there were some master pieces from Monique Collignon as well which I just have to show you!
Anbasja Blanken.
Photocredits: Gavin de Boer
So many amazing shows! If that wasn't a great day yet, there was also lots of fun after the shows. Everyone got together with a drink to talk about the beautiful inspirations for the upcoming Winter/Fall season and relax. Fashionchick was also present and I had the pleasure to get to know one of them: vlogger/illustrator Amanda van Effrink! She was doing a report on the Amsterdam Fashionweek and I'm there too, check it out here
Day 2: Sunday
Sunday was a busy day! So many shows to see, so little time… I was barely able to eat anything in between because everything was thighly scheduled, but I most definitely didn't get bored! Also I had the pleasure to meet up with lots of blogger friends who were joining me on the front row today, I was able to find one picture of myself during the FUTURA show
Since today was a very cold day I decided to make my coat the statement piece of my outfit. It's a grey & yellow oversized jacket from Bless the Mess, which I also found at Passage BCN. This brand is known for having very detailed sleeve decorations, absolute showstoppers! I combined this coat with a embellished little black dress from Mango: it doesn't steal the show from my coat, but emphasizes the best part… shiny details!
Catwalk Highlights: 
On sunday there was lots of variation to be seen on the runway: from cute 'horizontal wear' by SNURK with an adorable show filled with children, to an elegant yet powerful presentation by Tony Cohen. Also Oilily manages to put up an amazing performance every year, this time with the slogan 'Different is Beautiful'.
After a long day it was time to make some bored selfies in the train and go to get some well deserved SLEEP
Day 3: Monday 
Last but not least! The new creative director of Amsterdam Fashion Week came op with something refreshing for the final day. Instead of programming shows, she decided to make space for creative, young ideas and show the work of some of the many talents that our country has to offer. Walking around, you could see many exhibitions and projects around the concept 'The Future of Fashion', which gives us an insight in what we might be dealing with in 10 years… so fascinating!
Here is an example: the initiative Blond & Bieber created a type of paint which changes colors when exposed to Ultraviolet light, how incredible! Other ideas that were exhibited shared ideas on inter alia:  moving fashion on brainwaves, new production techniques, artistic criticism on the current our current fashion culture, and much more.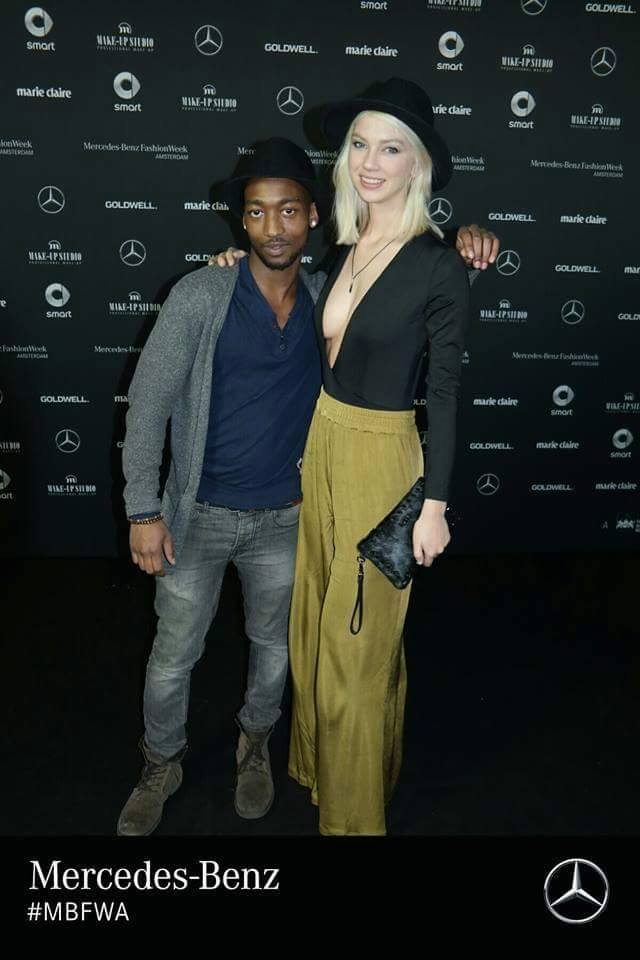 Today I decided to go for a glam outfit with this beautiful body from New Age Rebel in combination with these classic shimmer trousers designed by Maria Roch… a sexy yet classy look! To make the look complete I wore a handmade necklace from Chris van den Elzen (yes, the shoe designer I mentioned earlier  also makes gorgeous jewerly!) and a clutch from Intermission Design.
After visiting the exhibitions it was time for the best party to end Amsterdam Fashion Week! I got picked up by Gliziegal Amanda van Efferink to go to the Supperclub for Zalando's Blue Monday Dinner. As soon as we got inside, we got the best Blue Cocktail I ever had and we sat down in the lounge area to  chill and talk. The dinner was perfect, as well as the music, the people and the atmosphere… I couldn't have wished for a better end of the Amsterdam Fashion Week!
What do you guys think about my Amsterdam Fashion Week? Did you have any favorite designers? Which one of my outfits would you want to wear yourself? Don't forget to leave a comment:)
Lots of Love,
Lynn