Bye Bye Holidays, Hello Exams! Since most of my friends are spending their days in the books at the moment, I figured it would be fun to do an #OOTD inspired by the University Look. How to walk to classes while looking effortlessly chic? I got the answer! And there is more: for this #OOTD I convinced Alex to join me for menswear inspiration and I think he did an amazing job. Let's check it out!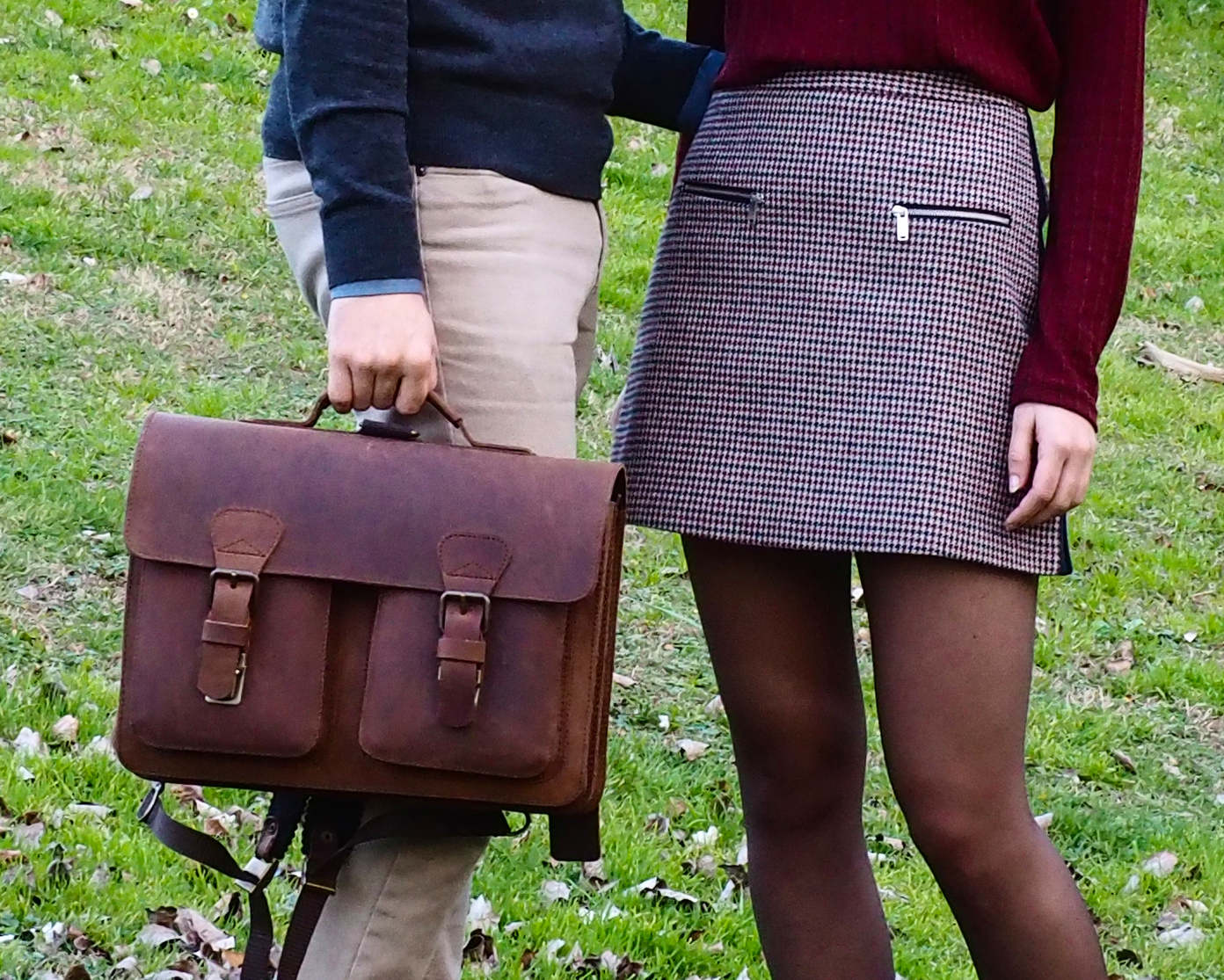 For Her
When you are too busy studying, you most definitely not want to get too complicated with your outfit. Therefore, the first (and very obvious) ground rule for effortlessly chic is: keep it simple! As you can see I went for a basic Zara shirt in combination with a checkered A-line skirt: warm and comfy, but still cute.
The second thing which is important for a chic school outfit are the colors. Black and white is always a safe option, but for today's outfit I felt inspired by warmer colors: brown and burgundy red. These colors are trending as we speak and I happen to love them, happy me! Is it just me or do they also give a little 70's touch to my outfit? Anyways, the neutrals are always good for the chic look, so all you have to do is ask yourself: does the color scream? If the answer is yes, don't wear it as one of your basics. As a fun touch for an accessory? Go for it!
And last but not least: you NEED a bag to drag all your books around, so you might as well go for a cool one! This oldskool leather bag from Ruitertassen really gives my outfit that final touch and is super practical as well. The best part is the fact that these oldskool bags are made with great quality and they will only start looking better with the years, unlike most other bags I ever took to class. Besides, I love the vintage style of the bag because… vintage! Do I need to say more?
For Him
How amazing is it that at the moment it's trending again for men to suit up and look classy? I'm a fan! Alex is wearing a shirt under his jumper with his tie tucked in (yes, I was inspired by Nate from Gossip Girl) combined with his beige skinny fit jeans. This fit makes the look a bit more casual, otherwise it would go into the direction of 'business man' instead of 'college student' and that's not the look we were going for!
For Alex I also decided to go for neutrals with a beige jeans and a grey/blue-ish sweater. However, the combination of different structures and layers makes the look more interesting, just as the small burgundy red detail on his socks! Finally, Alex' outfit also got its final touch with the oldskool leather bag from Ruitertassen, who do you think wore it better? ;)